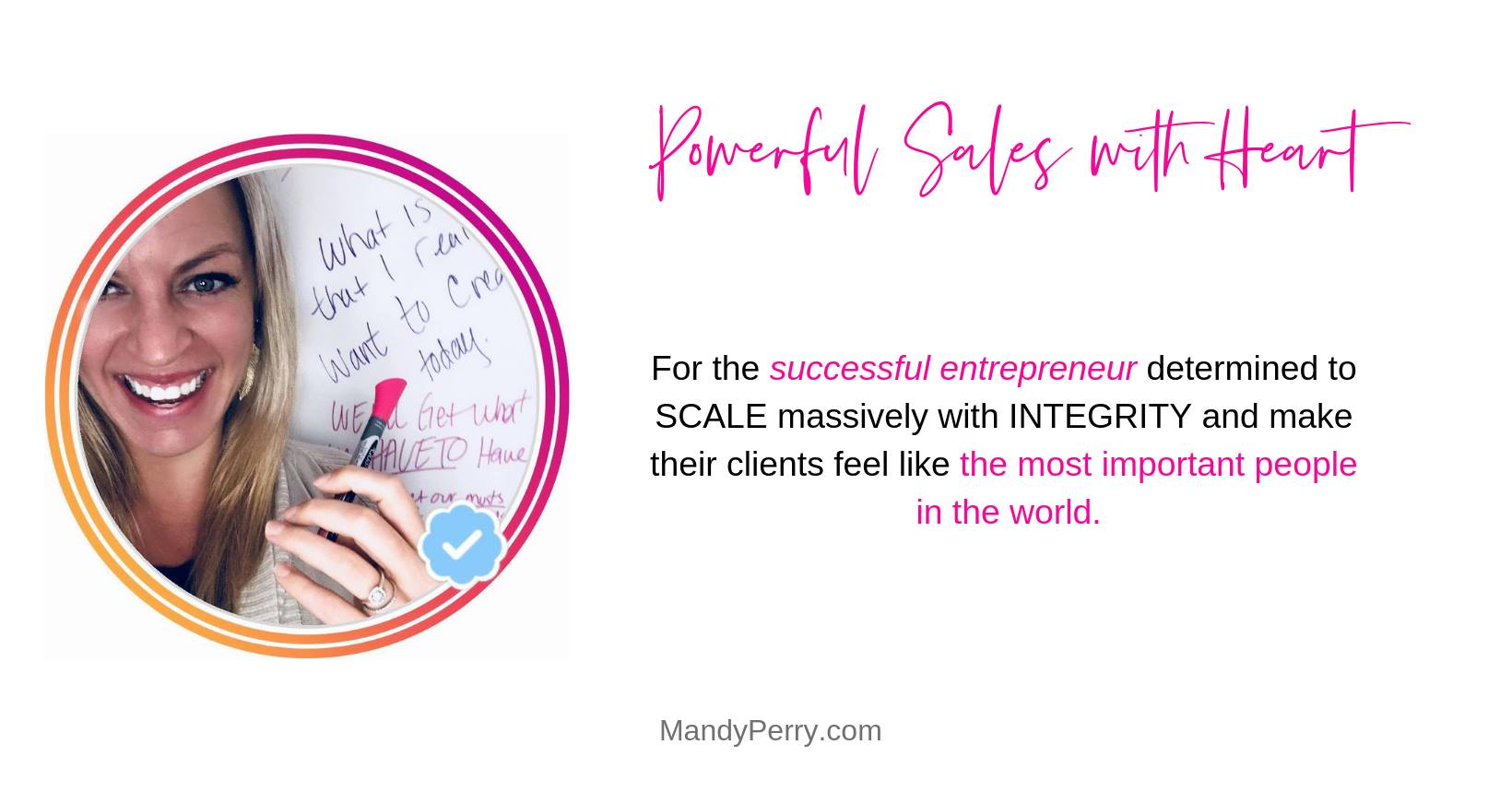 For the successful entrepreneur determined to SCALE massively with INTEGRITY and make their clients feel like the most important people in the world.
Click here for an audio from Mandy if you are stuck at a certain income level! 
If accessing on your phone, copy & paste link to your browser: https://soundcloud.com/mandy-perry-908793398/stuck-at-a-certain-income-level

Are you worried if you sell High End your audience won't buy?

Do you feel like your audience can only afford a certain amount and you can't seem to break out of that?

Are you worried about feeling pushy and salesy but know your audience needs to be called to more?

Do you feel like you have to sell certain things in order to have them sell?

Does it feel like you have to EITHER sell or give value? Not sure how to sell in a way that gives massive value?

Do you feel like people will think you are annoying if you sell daily?

Do you feel like your engagement goes way down when you sell?

Have you been avoiding selling because you just want to love on your people and have them love you back?  
If you are not making sales, it's because you do not believe in YOU, your product OR you simply do not know how at the new level. Things are never as complicated as they seem.
Sales is simply creating opportunities for people LIKE US who are wanting to show up and do the work, and want to SHOP with YOU because your voice and energy resonates with them.
I sell High End because I believe in my clients.
I believe in their worth.
I believe they will show up and do the work.
I believe they will get massive results
I believe we value what we invest in.
I believe my work on earth is to heal the wounds that leave people feeling unworthy for an epic life… which includes feeling worthy of investing HIGHLY in themselves the way I do.
I also believe ABUNDANCE is INFINITE, and I am called to participate in the kind of world where we get to have the things we deeply long for, including support.
Until you become convinced of YOUR TRUE WORTH, no one else will believe it either.
If you don't 100%believe in the product or service you offer.. No one else will either.
If you don't like to sell, it's because you aren't good at it yet or haven't made it effective enough to be as easy as you want it to be.
You will LOVE sales when your clients are coming to shop with you and THANK you for letting them pay you. <3 #soultribe
How you sell matters.
The process you use matters.
But how your clients FEEL when you engage with them matters most.
The work is to learn to sell more, (feel safe and comfortable selling more) to sell at higher prices (and to feel safe and WORTHY to sell at higher prices) and to give your clients an experience of shopping for their heart's desires.
We do it UNTIL we get the results we want.
You won't do it right. You won't get it perfect.
You will make big mistakes and small mistakes.
IT WON'T MATTER BECAUSE YOU WILL HAVE BECOME THE PERSON IT TOOK TO CREATE YOUR DREAM LIFE
You have control of this.
There has never been a better, more exciting time to be an entrepreneur. EVER. You have more resources available on your little phone than a global corporation had all together just a short time ago.
It's such an INCREDIBLE thing to be part of!
YOU WILL CHANGE THE WORLD BEING AN EXPERT AT SALES

Teach women how to make money differently

Teaching poor and middle-class wealth concepts

Helping those who don't fit the typical mold to feel accepted and loved and WORTHY

Helping people thrive

Selling changes the entire economy

Your work is changing the world
You see many entrepreneurs struggling and not making money OR Making tons of money but feeling trapped by their business and audience… so then you are tempted to feel like…
"Well if so many are struggling or overwhelmed, how do I know I won't?"
The top 11% of entrepreneurs are smart enough to look at what is different between the ones crushing it online… and the ones struggling… UNTIL they find the difference.
This is how my entire company was born.
I had success as a health coach… a bunch of friends asked how I did it, I started helping them, they made money and helped people… and the business grew and exploded.
There is a massive shortage of coaches who actually put both feet in the business. WHO COMMIT 100%.
(Which means you are completely committed to learning how to sell authentically.)
Massive shortage means THERE IS AN OPPORTUNITY for you like NEVER BEFORE.
(It's important to know these things)
You tracking with me here?
It doesn't take any more energy to go in 100% than it does to go in 60% and be freaking out 40% of the time… the difference is one builds you an empire, the other leads to red wine belly,  money stress, and a sense of failure, overwhelm, and frustration.
It takes exactly the same effort to sell a $30k package as it does to sell a $5k package. PERIOD
Also, you ARE an entrepreneur… unless your business is a hobby. And while we are on the topic… Let's just go ahead and embrace that it is a COMPANY, not just a business.
How will you ever be one of the true greats unless you start identifying as the CEO of your company .. rather than just a coach, just a rep, just a salesperson, just a singer, etc?
…thinks differently, acts differently, reacts differently, has different daily habits, calls in different types of clients, and for sure gets different results than the rest of the world. YOU are the 1%
You know there is no cap on your income.

You don't have to be scared of the economy or any individual's behavior.

You know it takes the same energy to make an $81k month as it does to make a $20k month.

You know you can get paid to do whatever you want, we have the BELIEF in yourself and the skills to back it up.

You know that no one was born knowing, and ANY SKILL IS LEARNABLE.

You know very few people will ever go ALL IN and then learn this level of skill and ability to back it up and you capitalize on that in the market.

You KNOW you got this, it's not fleeting high excitement and then no action to back it when the excitement wears off.

You stay motivated because the RESULTS motivate you (not because you are less lazy than anyone else)
Once you are 100% committed, you've DECIDED you are doing it UNTIL… Then and only then will you start making the power moves that will create massive results.
It's in the KNOWING that you are open to power moves and learning the skills to back you up that you can begin to have predictable results… Which I am not going to lie…FEELS DAMN GOOD.
I CAN PREDICT MY INCOME.
HOW ARE YOU NOT COMMITTING?
WHAT BACK DOOR DO YOU LEAVE OPEN?
WHAT INCOME DO YOU KNOW DAMN WELL SHOULD BE HAPPENING?
If you don't like the income you are making right now… it's because you have been neglecting your sales beliefs & skills. PERIOD.
You are not just a coach, just an oil rep, just a singer, just an insurance broker, etc.
You are an entrepreneur and a sales pro.
It is an ACT OF LOVE for you know how to help people say YES to their desires and to believe in themselves, to believe THEY are worthy of the investment for themselves.
It is an ACT OF LOVE for you to take the time to learn this VITAL piece of your company WELL and serve your audience with love through allowing them to have the EXPERIENCE of shopping with you.
This isn't about what NICHE you serve (you are the product, we don't niche ourselves, we offer services that are niched)
THIS IS ABOUT YOU becoming committed to your BUSINESS.
It's about you being 100% IN on developing the skills required to be in the 1% and change the world.
Do you know why you hate sales? Because you don't know how to do it skillfully and effectively IN COMPLETE INTEGRITY yet. (That's all) Trust me… when your clients are THANKING YOU for having the chance to pay you… YOU WILL LOVE SALES.
My clients thank me all the time for being able to pay me… "Just take my CC Mandy." They love shopping with me and picking what they are excited to have and nothing makes me happier. This is true thriving across the board.
Currently…
You sell high-level, love sales, want to SCALE to your next level while creating a LOVING, excited to buy from you culture for your buyer.

You sell daily, love it but want to increase your income and outgrow your current price point. (Also.. maybe you had awesome success and then crickets… I'll teach you why in the program)
You're longing for a consolidated training on all the sales techniques you can use to create an experience of shopping for your client vs SELLING them on something. How to be a company that hits millionaire numbers SERVING your audience massively.
You are confused how to show up on each platform selling. (Once you get what I am going to teach you .. you will sell effectively on ALL platforms)
You think it's because you don't have enough people in your audience, or that you don't have the right kind of people in your audience. Good news, your audience size, and your perception of the quality is NOT the problem. I'll teach you what is.
You are confused how to show up on each platform selling. (Once you get what I am going to teach you .. you will sell effectively on ALL platforms)
You think it's because you don't have enough people in your audience, or that you don't have the right kind of people in your audience. (Good news, your audience size and your perception of the quality is NOT the problem)
You do some sales but it's not consistent or effective. (You have engagement but people tend to go away when you sell)
You are terrified of sales and have little to no marketing skills. (Absolutely no reason to not go straight to high-level training… Remember, it takes no more effort to go in 100% than it does 60% – jump right in)
You are open and willing to think differently about sales, marketing, and the brand of your company and are willing to LET IT BE EASY.
You are committed to going in 100% on building your company and healing the world, and you are ready to make learning the skill of SALES from a place of authenticity a priority.
INTENTION OF THIS PROGRAM
 You will understand how to SELL high-level and how it is that I have clients THANKING me for being able to pay me.

You will SCALE FAST & WITH EASE… what I am going to teach you has worked 100% of the time… 100%. That's amazing.
You will feel crystal clear & in control of your income and brand.
You will get results that excite you, like SALES and loyal clients.
You will LOVE sales
You will understand your business and marketing at a new exciting level.
You will free up a LOT of time because it gets really clear what the most important tasks are.
You will free up a LOT of time because it gets really clear what the most important tasks are.
You will KNOW what to wake up and do each day for predictable success.
And most importantly… YOU WILL know how SELLING is actually the value you bring to the world… vs selling equals TAKING from them. (THIS IS EVERYTHING)
THIS IS WHAT YOU GET

6 Training
Step by Step support to immerse in this new skill of calling in, loving on, and selling to your tribe.
There will be replays of the Live Q&As that were held during the original airing of this group.

Membership Access
Unlimited access to ALL trainings and material housed in your membership area for unlimited replays.
BONUS: 100 Power Questions for Women Ready to SHOW UP, Love Big & Matter
HUGE SURPRISE BONUS!
You get instant and full access to the incredibly popular Money Making Facebook Lives program the day the Powerful Sales with Heart program starts!
WEEK 1
Training 1: How to maximize your sales AUTHENTICALLY AND POWERFULLY in:
FB Live

Blogs

Email

Sales page
I am literally going to break down each of these so you know how to SCALE your results in each while your audience feels MASSIVE VALUE & the tribe feel. This is why all of my clients rave about me and tell their friends about me. It's true #tribelife How to get them excited to buy from you in a genuine way that is FUN for you. HOW TO SELL in a way that IS THE VALUE. Step By Step. (There is no value or selling, it is all the same, I teach you how to do this) Your clients will never forget you when you learn this.
Training 2: Mastering your enrollment calls & selling on Messenger. How to do High-End enrollment & handle objections so that your client gets maximum support and you can 10x your sales.
WEEK 2
Training 3: Learn the PHASES of selling, and master each one. This is a process I created myself as I taught my high-level clients to do what I did to create the INSANE FAST results I've created in my business going from ground zero to on track for 7-figures in my 3rd year.
There are 3 phases and I watch EVERY SINGLE client I have ever had make mistakes in this. You will KNOW exactly what to do at all times in your launch with this process. I make it SO EASY.
Training 4: What is stopping you from making high-end sales – and how to breakthrough ANYTIME instantly. INSTANTLY. How to command high-end pricing in your sales in fun engaging ways. (I've sold $45k $30k etc from nothing but a blog post. ) I am going to teach you how to do this in a way that is PURE value to your clients. I am also going to teach you the mindset behind this. How to be effective, how to create a sense of WARMTH in your sale. (This alone is worth the entire investment!)
WEEK 3
Training 5: EVERY SALES TECHNIQUE I have learned, printed out on paper for you to have & I am covering every bit of it with you. (I would literally have paid $20k for this a year ago… It's just brilliant)
Training 6: How Team Mandy Perry Inc does all of our sales strategies. How and when we post. What we post. How we repurpose everything HOW I COME up with all my new ideas for sales.
Pay in Full
ONE TIME PAYMENT
Payment Plan
3 MONTHLY PAYMENTS
i'm so grateful for this experience right now because I've stayed the course long tiiiiiime
Omg I love this training! I remember saying I hated sales but it get it and love it. Thank you!
Or Join us in Le Million
Le Million is a journey. It's learning how to build an online business & a LIFE that is an extension of the real YOU. It's a process of unlearning all of the things that cause you to hold back, hesitate and get bogged down with overwhelm and confusion so you can build the success you want right now.
WHAT YOU GET 
(We really wanted to spoil you...)
Or join us in Le Million
Le Million is a journey. It's learning how to build an online business & a LIFE that is an extension of the real YOU. It's a process of unlearning all of the things that cause you to hold back, hesitate and get bogged down with overwhelm and confusion so you can build the success you want right now.
WHAT YOU GET 
(We really wanted to spoil you..)
>> WEEKLY LIVE COACHING 
Every Monday we have live Zoom event, Mindset Monday, where I go live and share the mindset insights with you.
>> WEEKLY LIVE Q&A
Every question gets answered in the Live Q&A event.
>> Monthly Live Group Zoom Calls
(Never been available before outside of the Diamond Mastermind or high end groups)  
Access to behind the scenes in my life and business showing how to CALIBRATE.
All of my resources and who and what I learn from.
The biggest lessons and breakthroughs and how I got them, in both life and business.
LIVE coaching and teachings based on every question you ask in the group in your Q&A thread. 
I'm 100% IN with you.
All in.
Tracking with you and walking every step with you.
There is nothing I won't give to you in this course.
I BRING IT ALL.
From baby Mandy to Boss Mandy to Magic Mandy to Millions Mandy.
I got you.
We have got each other. 
(I will be using this year together to capture all of the content that will create the individual courses that will be offered LIVE each month. You guys get the benefit of getting it ALL inside for this starting price.) 
>> the vault
(Value $58,000)
The step by step trail of how I went from 0-$1MM in 25 months!!!
NEVER EVER BEEN AVAILABLE IN THE INDUSTRY BEFORE!
A literal path of success captured and available for you!!
You will have instant access to all of the HOW TO, the VIBES & the WISDOM courses created as I invested $500k learning from extraordinary humans, implementing it and then creating live courses for my clients to learn from as I created the very first $1MM in the company. 
* This is access to 30 powerful courses : Value $58k
>> ACCESS TO ALL LIVE COURSES RUN ALL YEAR LONG
Yes! Everything! (We told you we wanted to spoil you!!)
You will get full access to every high-end course run live throughout the year. (We are expecting to run 10)
>>  LIKE-MINDED FRIENDS & COMMUNITY
You will be part of a powerful community of humans celebrating you and cheering you on as you go. You will make lifelong friendships and will feel SO loved and accepted in this group. Truly, wait until you feel the energy of these humans!
SO the course I'm in with my coach, the amazing Mandy Perry, supporting MY growth this month is called... THE ALPHA EVOLUTION! I am SO excited. We start today! Time to own it in every cell of my female body... my ALPHA! Me leading me FIRST! Shitty grinning while oh YESSSSSING! Feminine Power RISING! Hips moving cuz they ain't lying, my body is all YESSSSS!!!!!!!!!!!!! Having a coach is mothalovin LIFE! If I could speak to the me felling lost and powerless I would say Janet... you know better, get a coach, invest in yourself. Back yourself. Yea yea ther's other ways to grow... It's all good you know what's best for you! And when you know what's REALLY best for you is crazy mind blowing life transformation... nonstop all your life long cuz that's how you roll you closet growth junkie you... you work with a badass coach who's done the damn thang and her ENERGY seduces you there everyday until you're living turned ON! Growth and evolution is your game. Get your coach PLAYER! Then a few months go by and you're like WHAT?I was living like that? I was feeling like that? And you be like oh my Goddess I am so happy to be alive right NOW! The only reason I ever wanted to be a coach was because I experienced this the first time and said THAT'S what I wanna do!!! Getting to do it, getting to bring my continual evolution in support of my client's evolution is like tthe BEST LIFE EVER!!!
z
I just completed The Alpha Evolution- a 21 days program lead by the amazing coach Mandy Perry. She couldn't had chosen a better time for this work, planets retrograding and eclipses- simply divine timing for stepping back into fundamentals and implement them everyday! A lot happened for me in the past month and I do want to acknowledge Mandy as one of my gifts. Working with Mandy and being in her honest, straight forward, no BS, loving energy its a true inspiration! We dive into fundamentals of the work with a powerful group of people- we laugh and cried together, we shared, we support and celebrate each other daily! Many things has been shifted for me and not all of them are fully sink in just yet, I'm allowing the space and time to integrate them in my being deeper than ever. The biggest shift for me is moving away from "who am I being" into simply, sufficient and completed "I am" Thank you Mandy for your authentic and honest leadership. I love and respect you and the work you put in the world.
This is me yesterday after 21 days of Alpha Evolution. In those 21 days we tracked with each other every day to address the real deep stuff. Since we began I shifted out of some gnarly attachments and bad habits that have set me free! I am suddenly exploding in even more vibrancy, energy, love and connection than ever. I can't wait to wake up each day and see what magic and who will appear and shine in my day!! I am so grateful and blessed to have found you, my girl Mandy Perry. Since I signed her up as my mentor and joined the Diamond Girls, I have felt more supported, loved, backed in and believed in than ever. I needed to cut out some really shitty habits of thoughts and being. The ones that die hard and slow. She shut off the bullshit self pity negative tape that had a grip over me, and y'all know I am a very positive high vibe energy! Some of this stuff runs deeep. She walks the walk and talks the talk and how she explains stuff helps my creative chaos brain unsderstand and implement much needed structure and systems into my biz. Her vision of the world and how she embodies grace, big hearted love and the truth of our sensitive selves AND brings it big baller style is inspirational AF and you can't help but expand being in her energy and powerful containers. And I love love our community! I love each of you that I share with and the daily process of leveling up exponentially with focus, discipline and fuuuuun honay! I feel held and witnessed and supported and KINSHIP!!! Life is for living and giving and receiving and this lady knows how to show us and be it. I love you so much sister and am so grateful to do life with you and Valtopia is so much bigger and brighter with your guidance for me. THANK YOU!!! Mandy Perry
I am feeling so blessed I just completely a 21 day program called Alfa Evolution with my amazing coach, mentor, & friend, Mandy Perry. The transformation has been amazing. I've learned to live my life everyday with intention. Doing today with excellence is now a habit and only good thing come from living life this way. Celebrating little wins daily creates great energy and leads to huge wins!???? I cannot put into adequate words to describe how amazing Mandy is. She has an intuitive ability that goes beyond anything I've ever seen. She knows exactly when to love on you or call you out on your bs. She completely understands how you feel and really appreciates your struggles. I've been blessed with having Mandy in my life guiding me for 2yrs now and can't imagine doing life without her in it. Thank you sister
Still have questions? 



But Mandy, How do I know it will work?
When we focus on what it feels and sounds like this..."Will it work? Is it right for me? What if I don't make my money back? How is this different from everything else I've tried? If I try and fail this again, I won't be able to stand myself.
As fun as that is... this is really the whole point. Learning to become the person who focuses on WHATS POSSIBLE rather than what if IS the whole point. It is the work. If you struggle with these thoughts, you belong in this program.
I'm busy and already bought a bunch of courses. How much time will I need to invest each week? 
This program is about POWER moves... Not a bunch of frantic work that never needed to be done. The rule is, we don't do anything or business doesn't require us to do. 2 hours a week is plenty to maximize this course.
I'm not sure it's wise to make another investment…
I know it is against traditional thinking of normal 9-5 people. Doing something EPIC in life requires epic bravery.  It can feel reckless to invest especially if you've already invested in a bunch of programs and you've yet to see a return on those investments.
But this isn't a how-to - this is  CHANGING THE TRAJECTORY OF YOUR ENTIRE LIFE.
This isn't crystals, books, free webinars, how to insta-fix, and all the other things that take up our time and help us feel better but don't create the LIFE-CHANGING results.... this is the real work.
If you knew you couldn't fail, and you would become one of the top 1% in the industry making 7 figures... how insignificant would this investment be? And in 10 years, will how much it took you to get there have mattered?
My Update/ Wins/Celebrations… I feel like I've had a series of MASSIVE transformations. It is year end, I'm in ACA, BEING, and looking at how I want to show up in my business, and my life. All of these downloads have come over this full moon, In all of this flurry I'm SO grateful to be alive BEING full me and my authentic self, creating what brings me joy! #Hallelujah #feelssogood #watchmegrow #hello2022
Im celebrating my first paid client in my Mrs happy program!!!!
I have to ask myself am I worthy- do I really desire my desires you know those desires deep down in the depths of your soul? Those tugs and pulls that won't go away! Joining that membership Mandy Perry joining the 500k program and listening to the programs Loving the trainings and the powerful wisdom has not only opened my eyes I am choosing mentors (I have 2) to walk through what I haven't been able too- struggling with past choices- walking it out and through the hard choices and decisions that I choose – I choose who I want to surround myself with what I will or will not tolerate – I choose – I respond to non-negotiables-meditation- breathing – journaling- writing- manifestation- taking the classes learning everything that I want to learn and being grateful – I show up – I respondi to the call – I do it until – What if you did share your story to just one person and it changed their life? What if you published that book or wrote your book? What if you took that leap of faith and learned that by having a conversation with just one person it could change their life? What if you found your voice and shared it? What would that look like for you?
FAQ 
Q:  How do I reach you if I have questions?
** You may reach us at support@mandyperry.com for any questions you have about this program, logging into the Member Center, or any technical questions.
Q:  Where can I access the trainings for this program? 
** For live programs, all content is first dropped into the exclusive Facebook group for the program, and then added to the membership area of the website.  It is also emailed to you.
** For self-study, pre-recorded programs, the content is always in the membership area of the site, where you may access it forever and can revisit any training you want, at any time.  
DISCLAIMER:
I obviously do not guarantee specific results. I know what is available for you if you are ready to show up. I have watched hundreds of coaches get results from this work, but you are required to do the work and actually participate actively in the program. I don't guarantee increased income. Results may not be typical of all students.