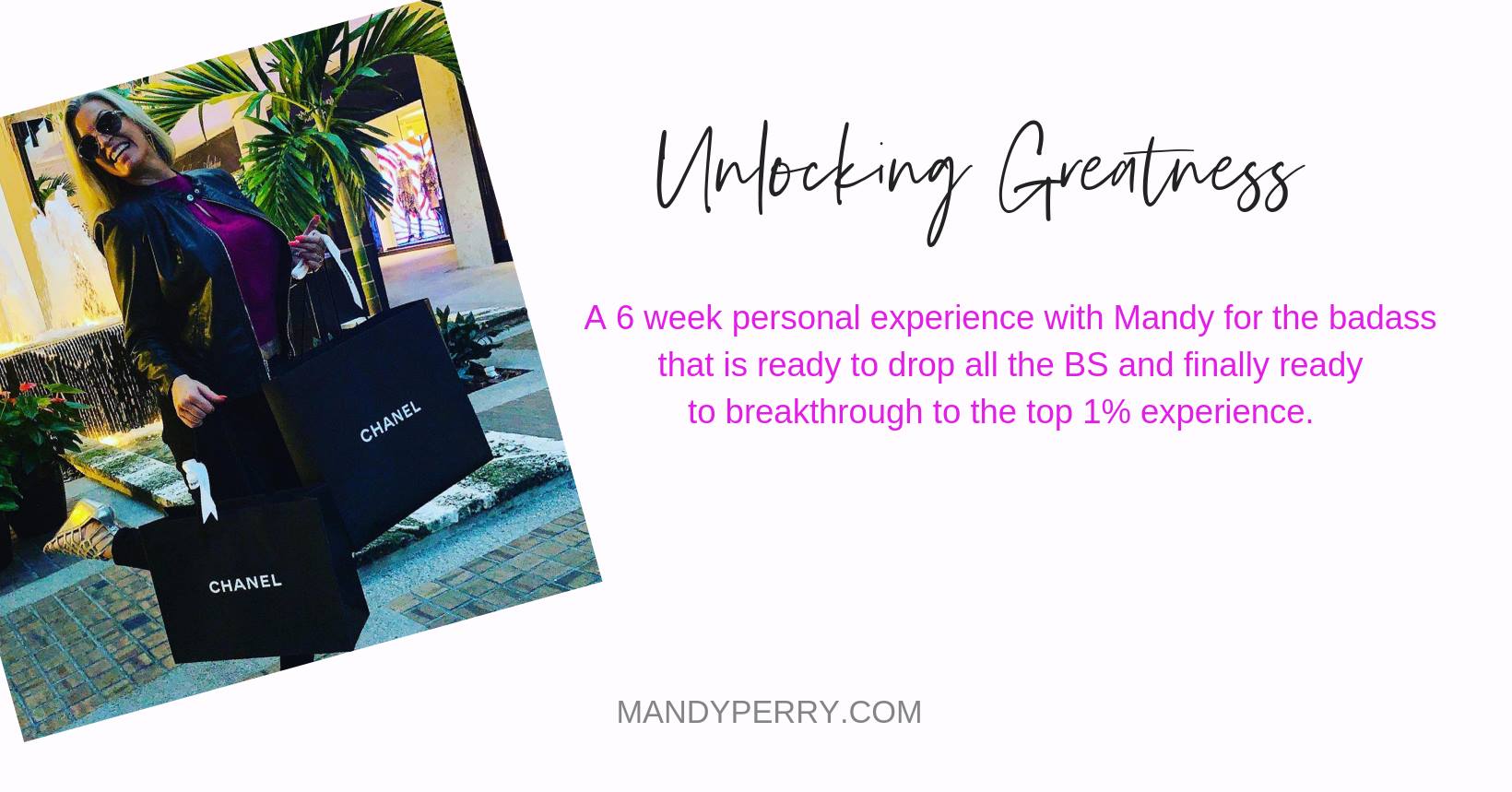 What You Get:
THIS IS A SELF-GUIDED, PRE-RECORDED PROGRAM.
You will study at your own pace and may revisit any of the content as often as you wish – forever!
** Access to membership area where all content is accessible indefinitely.
** Mix of audios, workbooks, and recorded trainings
Week 1 – Get a clear vision & How to SET and REACH your goals

Week 2 – Become a MACHINE making $ and hitting your goals DAILY HABITS and systems.

Week 3 – How to be COACHABLE & get the best results with a high-end mentor and tribe & 10x your results right out of the gate.

Week 4 – How to change ANY behavior NOW (This alone is worth it)

Week 5 – How to remove emotions and SHOW UP even after the initial motivation wears off.

Week 6 – Mindset for GREATNESS – Rock solid mindset of someone brave enough to go all-in and LEAP.
Pay in Full
ONE TIME PAYMENT
Payment Plan
2 MONTHLY PAYMENTS
Lots of personal growth and emotions these last couple of weeks . I feel like I have made some major headway with my focus and message. Working out gears and breaking through the BS that was holding me back. Thank you Mandy for calling me out a couple times – very eye opening.
EPIC DAY!!!!! Holy crap did the shit hit the fan yesterday. Migraine, major emotional blocks and releases around my relationship boundaries. But I did the work, I stayed in the arena and I cleared that emotional shit out. ????????????
The result from doing the work meant today was fucking epic. It began at 4 am, I went through week 2 training, made my list and began ticking shit off.
Journaling ☑️
Drink glass of water 1st thing ☑️
Meditation & Gratitude ☑️
Calling in the vision of Platinum Album and 1 Million sales. ☑️ (Began to feel it, tears of JOY!)
Create inspiring content through intuitively journaling and post FB/ Instagram/ email list. ☑️
Create/ Monitor FB adverts for Album. ☑️
Shred workout AM: Cardio & Weights (Reward with a jacuzzi & steam) ☑️
Face cleansing routine ☑️
I havent completed all my tasks, but I don't care. I am so proud of myself today & I feel like a badass.
I feel clear, I feel focused, I am having fun. So Thankful!!!
Thank you Mandy Perry , You Rock! ????
Hey everyone! I noticed today the universe is delivering exactly what I ask for. I've been putting out I want to make $7k months, that that amount will make me feel taken care of. After taxes, we brought home $7007.59. Talk about delivering. My original monthly goal was $10k+ after taxes but it felt too big like I couldn't 'get there'. After seeing this I realized I've been playing it small and letting fear & what ifs run the show. So I'm putting out to the universe that I'm open to receiving $10K+ months. I'm also open to receiving this in any shape or form! I've been so attached to where the money comes from. I'm letting go of that. Receiving is receiving and I'm grateful for all of it!! Mandy, I'm surrendering to the process
My content!!! Yeahhh… I'm sooo much at ease writing content…my blogs are turning into programs and soo much more. It's feeling like my soul has unlocked itself and it's pouring out …emotions.. desires…my confidence in what i want to achieve.. thank you Mandy Perry!!
Or Join us in Le Million
Le Million is a journey. It's learning how to build an online business & a LIFE that is an extension of the real YOU. It's a process of unlearning all of the things that cause you to hold back, hesitate and get bogged down with overwhelm and confusion so you can build the success you want right now.
WHAT YOU GET 
(We really wanted to spoil you..)
Or join us in Le Million
Le Million is a journey. It's learning how to build an online business & a LIFE that is an extension of the real YOU. It's a process of unlearning all of the things that cause you to hold back, hesitate and get bogged down with overwhelm and confusion so you can build the success you want right now.
WHAT YOU GET 
(We really wanted to spoil you..)
>> WEEKLY LIVE COACHING and Q&A
>> Monthly Live Group Zoom Calls
(Never been available before outside of the Diamond Mastermind or high end groups)  
Access to behind the scenes in my life and business showing how to CALIBRATE.
All of my resources and who and what I learn from.
The biggest lessons and breakthroughs and how I got them, in both life and business.
LIVE coaching and teachings based on every question you ask in the group in your Q&A thread. 
I'm 100% IN with you.
All in.
Tracking with you and walking every step with you.
There is nothing I won't give to you in this course.
I BRING IT ALL.
From baby Mandy to Boss Mandy to Magic Mandy to Millions Mandy.
I got you.
We have got each other. 
(I will be using this year together to capture all of the content that will create the individual courses that will be offered LIVE each month. You guys get the benefit of getting it ALL inside for this starting price.) 
>> the vault
(Value $58,000)
The step by step trail of how I went from 0-$1MM in 25 months!!!
NEVER EVER BEEN AVAILABLE IN THE INDUSTRY BEFORE!
A literal path of success captured and available for you!!
You will have instant access to all of the HOW TO, the VIBES & the WISDOM courses created as I invested $500k learning from extraordinary humans, implementing it and then creating live courses for my clients to learn from as I created the very first $1MM in the company. 
* This is access to 30 powerful courses : Value $58k
>> ACCESS TO ALL LIVE COURSES RUN ALL YEAR LONG
Yes! Everything! (We told you we wanted to spoil you!!)
You will get full access to every high-end course run live throughout the year. (We are expecting to run 10)
>>  LIKE-MINDED FRIENDS & COMMUNITY
You will be part of a powerful community of humans celebrating you and cheering you on as you go. You will make lifelong friendships and will feel SO loved and accepted in this group. Truly, wait until you feel the energy of these humans!
Im celebrating my first paid client in my Mrs happy program!!!!
#replay appreciate your candid responses, your emotional honesty & your dedication so much, Mandy. I just got all high hearing you describe 'magic' – yesssaaa! Thank you for your description and sharing with us your trust
While I've worked with a variety of coaches over the years, last month I caught a few FB Lives from Mandy Perry that really got my attention . Her authenticity and no BS style about what it takes to be successful in businesses really stood out from the crowd Plus she has the results to back it up. She went from being a $400/wk nanny to making 1.4 million in her first 3 years of business. I knew right away I wanted to spend more time in her energy and learning from her heart. So when I saw that she was offering a crazy amazing deal to be in her Live energy every week in 500k year with Monetize Your Journey that includes access to 30 of her courses, I felt like I hit the lottery! Since I started the course last month , I've had my most $uccessful month yet in the 4 years I've had my online business and it was way easier than I thought! I feel like I finally have access to the missing pieces for success. While the courses include information on "How To's " on anything you could likely need to run a successful business More importantly, Mandy is amazing at teaching how to move past the BS stuff that most people get stuck at and start creating the success that most know is possible but never seem to get to. While she may give suggestions, she empowers you to know how to get the answers for yourself The group energy in the private course FB group is amazing! Everyone is super supportive of each other and very inspiring As the saying goes " the rising tide raises all ships" I can't say enough good about this course. If this is resonating with you, you can check it out here. https://mandyperry.com/myj/ Doors close soon when the last spot is filled Feel free to reach out if you have any questions Nancy xx
FAQ 



Q:  How do I reach you if I have questions?
** You may reach us at support@mandyperry.com for any questions you have about this program, logging into the Member Center, or any technical questions.
Q:  Where can I access the trainings for this program? 
** For live programs, all content is first dropped into the exclusive Facebook group for the program, and then added to the membership area of the website.  It is also emailed to you.
** For self-study, pre-recorded programs, the content is always in the membership area of the site, where you may access it forever and can revisit any training you want, at any time.  
DISCLAIMER:
I obviously do not guarantee specific results. I know what is available for you if you are ready to show up. I have watched hundreds of coaches get results from this work, but you are required to do the work and actually participate actively in the program. I don't guarantee increased income. Results may not be typical of all students.